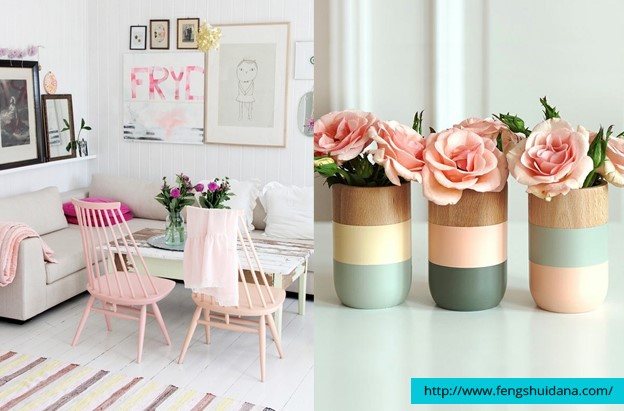 A pastel color palette can look so welcoming and sophisticated when used strategically. Throughout the years we've always loved how colors can create an ambiance that we all relate to in our favorite and dearest spaces. Pastel colors have come a long way from considering feminine and girlish! Today they gave you a relaxed feel to your living spaces, Pastel colors have countless benefits – they are soft and welcoming, they are varied, extremely versatile, and they can actually be quite gender neutral when used correctly.
Rediscover the appeal of pastel colors in your home
Designing a home with the use of apt colors creates an dreamy and comfort feeling and a pleasant place for all those who pay for a visit. In the present time interiors pastels are back with a bang and making a huge difference to the designing the interior! Whether you are thinking of giving your house a makeover or just adding some special touches to your textiles with pastel palette – there is a wonderful range of pastel color combinations which can do a miracle to your house.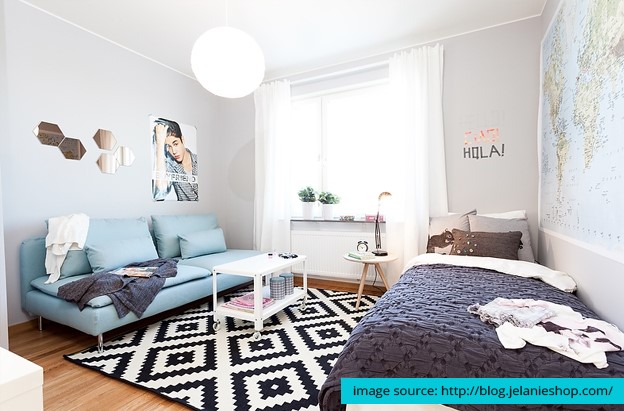 Pastel colors in Kitchen Appliances are making a great comeback
Find a lighter color scheme for your kitchen by finding appliances with pastel accents or even you can play with the cabinet colors like the below kitchen, on the walls there is a light green color which is making the kitchen looks spacious and more bright, the pink cabinets are complimenting the walls and other things very well, mint green microwave is looking beautiful with the present arrangements.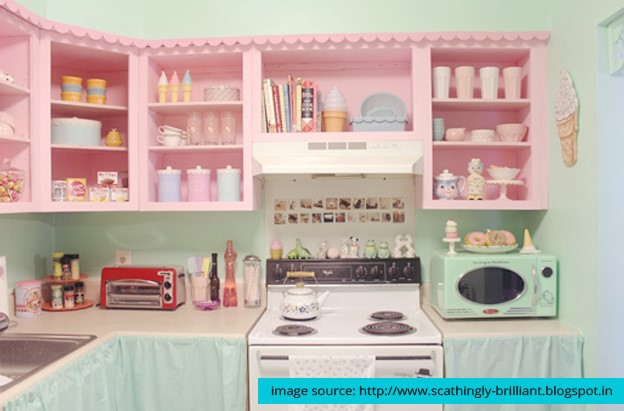 Decorate With Pastel Furniture
You must be inspired by images on Pinterest or other sources that involve pastel paint furniture. This is a great time to give those inspiration a real-life go!
A patterned wall with a calming yellow pastel color variation is very well complementing each other, pink and creamy hanging lamps, yellow book shelves on the wall and creamy yellow bed is giving the soothing look to this room, the pink and creamy ceiling lamps are completing the overall look.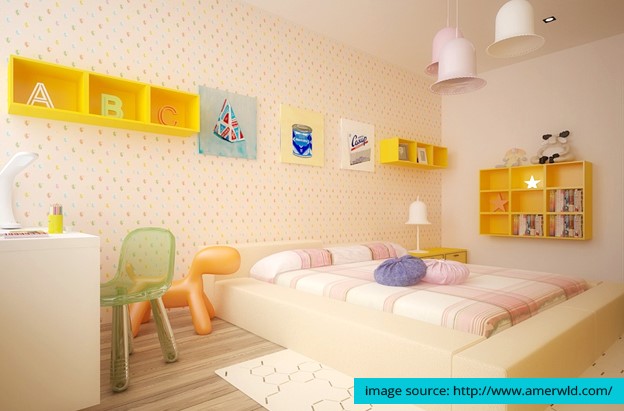 Combine Pastels with Black
When paired pastels with grounding factor, such as a sophisticated black, the balance of pastels and black in a space takes on a new level of interior designing. Black is sign of luxury, elegance and refinement, and this color has a special impact on people and when we combine this color to some different color palette it works wonder.
The creamy pastel on the center table really complimenting the wooden finishing like floor and wooden corner mirror on top of the fireplace and the eyes are drawn just on the dusty pink cushion. It works perfectly against the grey sofa set. Multicolor pattern mattress on the floor is completing the complete adjustments of the colors in this living room.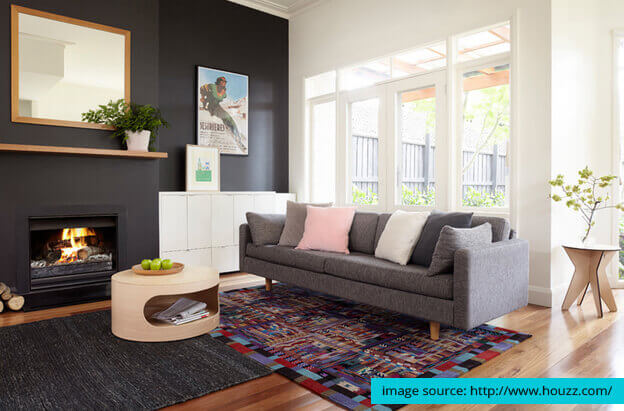 Try Pastels with Warm Wood Color Palette.
Pastel plays an important role in the balancing act as well. The pairing of soft, rich pastels with the right wood tones in a desired space creates a breathtaking feel, energy and flow. The warmth of pastels and wood, does wonders to your house interior if chosen wisely.
This pastel light blue wall is working very well with this wood flooring and gray sofa with patterned cushions, the wooden looking cover of the books is just working so perfect with this white book shelve. Overall this color combination is creating a bright environment to this room and the white ceiling is bouncing back the light which is making this room spacious and clean.