Color plays a vitally important role in the world in which we live. Color can change our thinking, actions, and cause reactions. It can soothe or irritate your eyes, or can give a comfortable feeling after a long tired day. If used in the right ways, color can even save our energy utilization. They can bring an effective and refreshing transformation to your desired space. A color combination is any set of colors that work together to create inspiring and attractive visual. This is why it's important to select the color that's just perfect and soothing for your home.
For 2015, we would like to give you a glimpse of how room's interior look using different tones and values of new trend colors on the walls. A perfect "balance" happens when decorative colors are added in furniture, doors and other accessories like table lamb and mattress. We've mixed and matched colors from different color palettes to show you how they can be very impressive when combined with different colors. The result is beautiful and harmonious makeover to your room!
COLORS WHICH RELATES TO YOUR DREAMS
Dark colors can transform your bedroom into a dreamy, mythic imagination also Darker colors immediately makes room feel more intimate and cozy.
On the walls, Essential Dark Blue is a profound hue that adds a measure of impressive beauty. Clean white ceiling and light creamy mirror add a light contrast, while Heritage Oak is balancing the furniture to complete the look and feel. The pattern found in the curtain, bringing bright pops of color for volume and interest.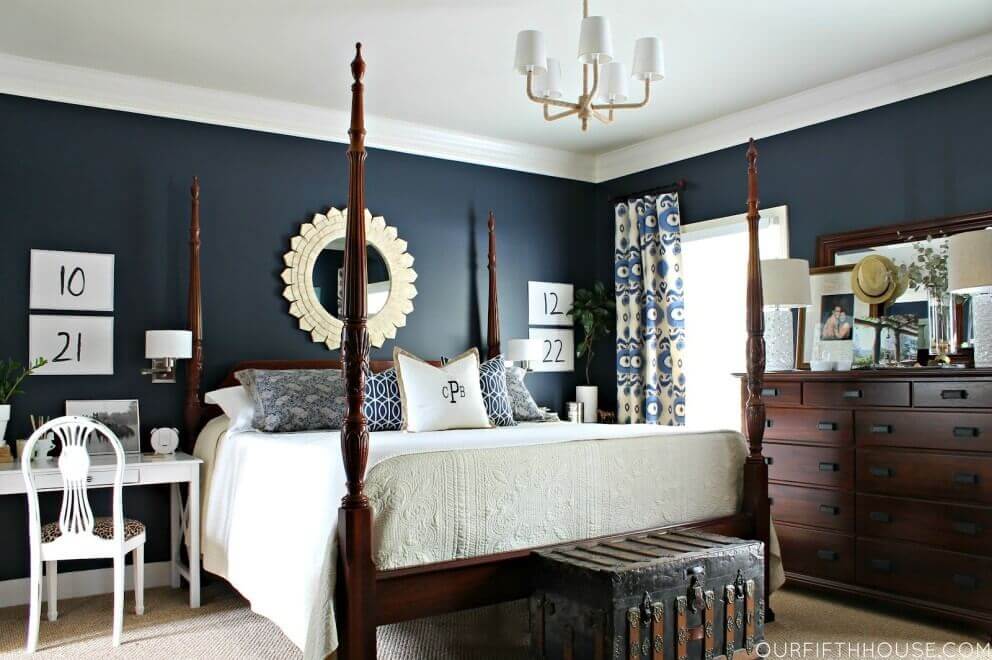 SOOTHING AND WELCOMING PASTELS
Pastel colors are now trending in home decor, we are explaining the best interior paint color trends to capture the balance needed to create inviting, inspiring and dramatically transformed rooms. Pastel colors have come a long way from only showing up in nurseries, we can combine them with zesty modern color schemes to get the comfortable ambience in our favorite spaces.
Creamy pastel color on the walls is popping up the light in a very energetic contrast, while the catchy pink chairs are balancing the combination. Yellowish Curtains has blue lines over there which is very contrasting with the sofa set and managing the overall look of this room.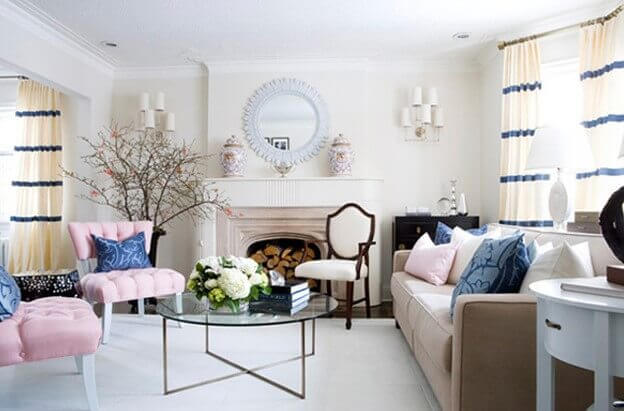 SPARK CONVERSATION WITH A BRIGHT FEATURE WALL
The key to using brights is to use them strategically. Bright colors work well when we partnered them with neutrals, dark patterns, dark hues or light hues.
This beautiful and relaxing living room is a lively place for take a snap or conversation with a simple and catchy wall in bright teal with blue wallpaper with wooden frame, and marble white sofa with bright green and dark gray patterned pillows is completing the look.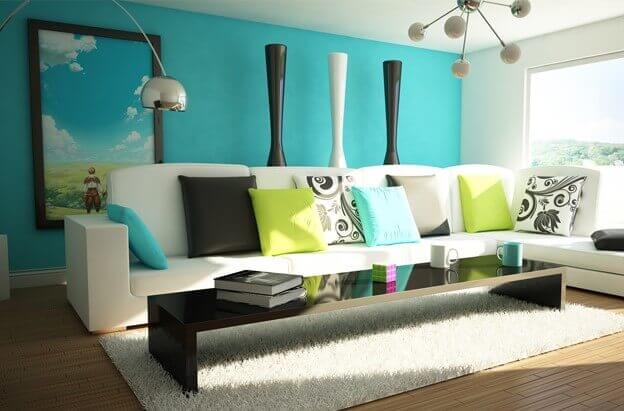 EFFORTLESS ORGANIC COLORS FEEL RIGHT AT HOME
Comfort yourself with calming and energizing organic color schemes. Look outside to your house window for colors that naturally complement one another, soothe your eyes and refresh with in a blink of an eye.
A sunny day rendered in warm and organic color scheme, which is creating a cozy yet elegant look in this modern living room. Cheerful green shelves add a fresh feel to creamy yellow walls and ethereal blue accents are complimenting the complete look.