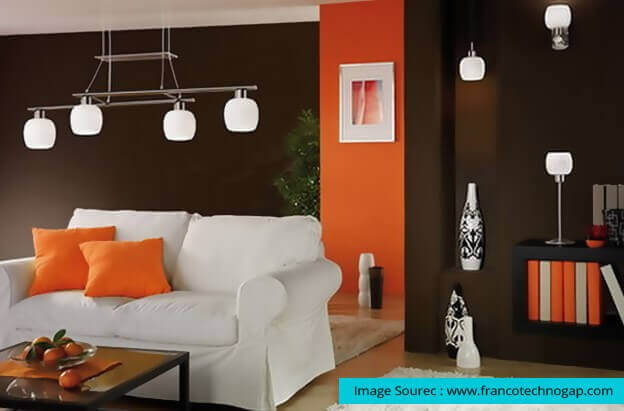 How do you feel when you walk into your home? Relax? Happy? Or Boring? In today's world we have many stresses and tensions to deal with our daily life, but our day starts from our home and end there too. So, our home should be that place that helps us to be calm and relaxed. A relaxing and energetic atmosphere is very easy to achieve with careful use of color and decorating accents. With a few accents and decorating techniques, you can make your home a peaceful place to enjoy every day of your life. We gathered 10 simple tips to lay the foundation for a calm and peaceful home.
Every Room is Important
The very first thing is you should always keep in mind that every corner of your home will impact your emotions and psychology. We all have those spaces that are rarely or regularly attended, but we have to make the balance in every inch of it by making each space utilized. It's easy to stop the decoration or arrangement of a not so useful space to do it another day but you should remember that unfortunately that space can zap your energy. Make every space special and inspired of your home and don't ever leave any space undone.
Get Organized
Unorganized things in your home can impact your unconscious mind and it will not only make your feeling disturbed but also leave you scramble to find anything in it. Organizing things like stack of newspaper, toys or etc. can never really done but you can make separate spaces to hide those things. You can also organize some items that will make you smile, like memorable photos of your friends and family on wall or on a table. Organizing the things in your space is not that tough, so try this tip and you will feel relaxed and calm.
Add Colors
Studies have proved that color can impact you psychologically and emotionally. It can affect your body temperature, mood, energy level and also appetite. For example Red is used to stimulate the mind and body, yellow is for confidence and optimism, orange is stimulating and reaction to it is a combination of the physical and the emotional, white gives a heightened perception of space. Make your life colorful by painting your room in some cool and refreshing colors. This is not always necessary to paint your room instead you can try adding some colorful accessories to your space like a colored painting to your wall.
Invite Nature
Natural element can help you to have a deep sense of inner calm and peace. Always welcome the natural light to let in and placing plants in your space will helps to clean and re-oxygenate the indoor air. You can also place a vase in every room with the fresh flowers which smell can have a strong and calm effect on your feelings. You can place some decorative and large mirror in front of your window or door this will help you the bounce the natural light into your room. Try some metallic and mirrored photo frames combination on your wall, this will give a modern touch to your space and will reflect the light also.
Music Power
Music is that stress reliever that can energize and make your day very good. Did you ever hear that if you play some good music around a baby so the baby will feel more relaxed and sleep easily? Give it a try, collect your favourite music CD or download to your personal computer and play them into your day to day activities like when you are working, cooking, relaxing or doing anything, the background music will really affect your mood and will definitely make you calm and energetic.
Textures
If you are buying something new you should always follow you home theme, having some unordered thing in your home can make you disturbed. Natural materials like jute, linen, old leather, silk and wooden objects will make you feel more comfortable.
Daily Cleaning
A good way to start your day is by cleaning your home. When you see clean and clear spaces at your home, its helps you to concentrate and focus on your peacefulness.
Meaningful Decorations
Most of people buy expensive things and fill there's home with it, which will make the space more clutter. Instead of buy lots of expensive thing it's better to decorate your house with hold meaning for you, and that's allows you to inspire or motivate, like your ideal's photo on a wall will be more inspirational.
Positive Vibes
Surround yourself with the items that make you happy and confident. These things will always inspire you and make your mind more calm and peaceful. Everyone probably have also bad memories that can demoralise and make you feel uncomfortable; by removing related items can also helps you.
Take a Step
Always remember a very small step is also getting you closer to your goal. Take a moment and think what life would you want, and your surrounding is helping you to achieve your goal. Take your first step, don't hesitate that how small you step could be – it can be small as adjusting the window shades or it can be big.