The combination of black and white is so much popular in interior design and fashion industry. This combination is too strong but this is a very classic and modern combination for your home, this combination is timeless and effortless at the same time. You can brighten up this combination with colored kitchen accessories that can be easily changed whenever you feel bored with them. Black kitchen cabinets, backsplash designs, dining furniture in black color, chandeliers with black lamp shades, black countertops and kitchen appliances in black color look impressive and fascinating. The black color is so much versatile for the interior decorating idea that is suitable for any interior and decor style.
There is nothing as such black and white combination so grab yourself a cup of something yummy and take a few minutes out of your busy day to sit back and relax.  It's time to look at some amazingly beautiful black and white kitchens. Hope you enjoy and make a thought to remodel your kitchen! Be Inspired
This beautifully arranged black and white kitchen was a mess before the remodeling but now it's a charm for the homeowners. The modern kitchen is a complete solution with a focus on letting in enough natural light, plenty of cabinet storage space, and full of airy feel. Originally posted: www.mydomaine.com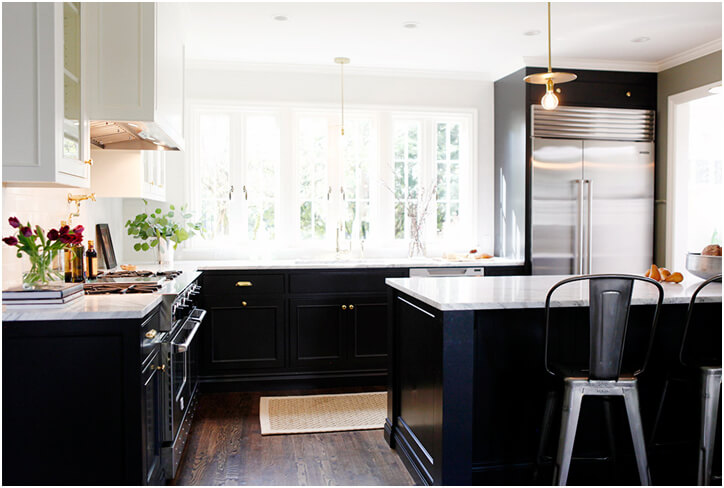 A perfect and so much balanced black & white kitchen, a balanced amount of black and white with little bit colorful accessories is a perfect recipe for a modern and elegant kitchen. Below black and white kitchen idea is perfect for a modern kitchen interior. Originally Posted: www.bloglovin.com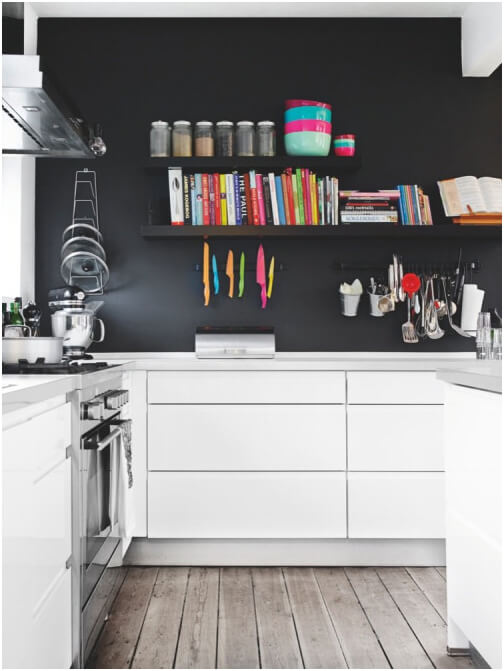 This beautiful Contemporary black and white kitchen is super classic and perfect style statement, absolutely adorable flower vase on a worktop and hanging lights are a plus for this beautiful look. Originally Posted: www.decoist.com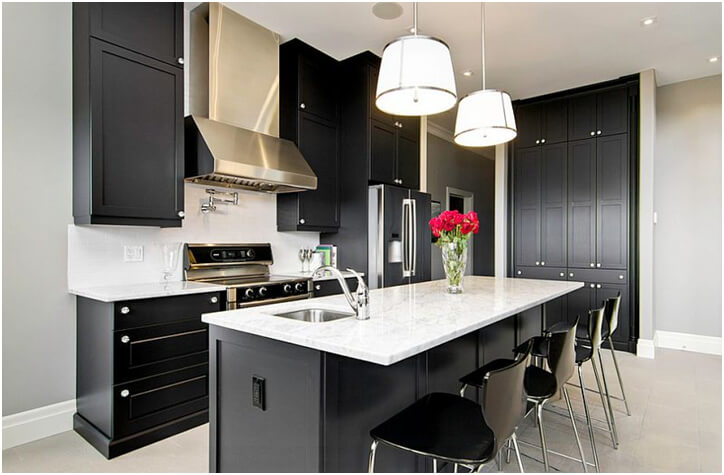 I am in just love with these black cabinets with a natural wood and stainless steel appliances, this black and white kitchen look is so rich and sophisticated for anybody's home. Originally Posted: www.lizmarieblog.com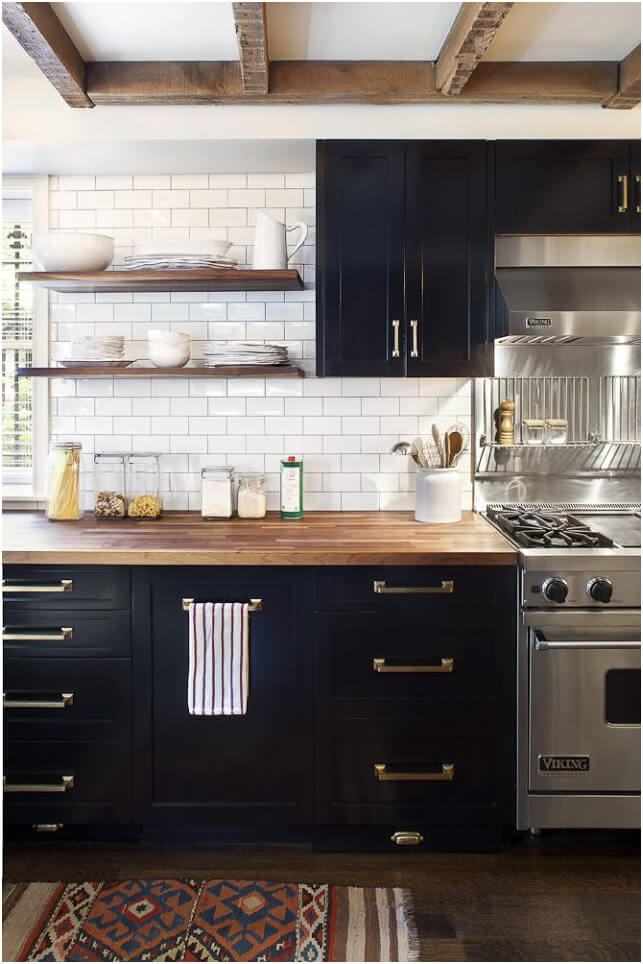 I am just speechless after checking the before and after pictures of this kitchen, this is just so stunning and simple at the same time. This space is so much cheerful because of white and reflecting natural light perfectly. Black cabinets and wood counters are warming up space so cleverly, are you excited to check out the before after pictures? then do visit the original post: www.abeautifulmess.com. This given link has a complete demonstration of the renovation of this kitchen project, I am sure you will get some inspiration from that.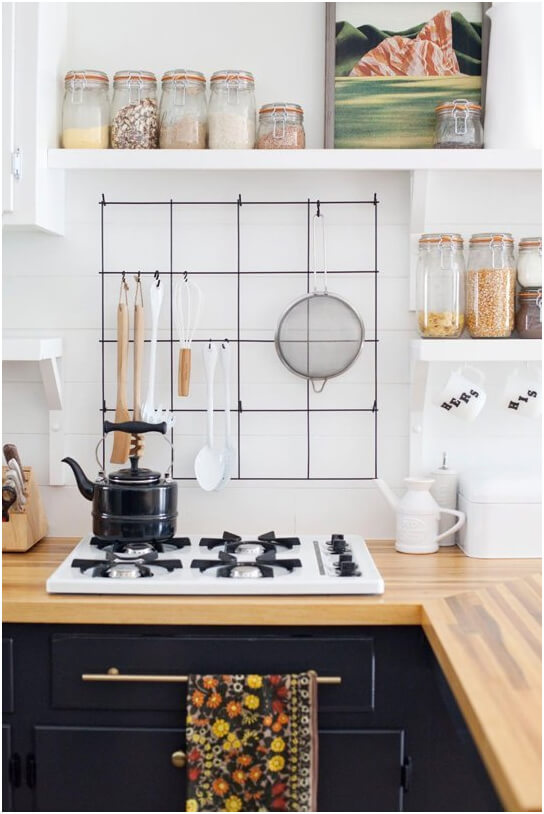 Now, this is what we call a perfect arrangement and color combination for a small space, this is insane and so neat and clean design. This black and white kitchen has a open shelving for displaying some special pieces of your kitchen, black countertop, white cabinets and tiles backsplash are looking so simple and stylish too. Not so much but just enough and simple arrangement for a small space kitchen. Originally Posted: www.apartmenttherapy.com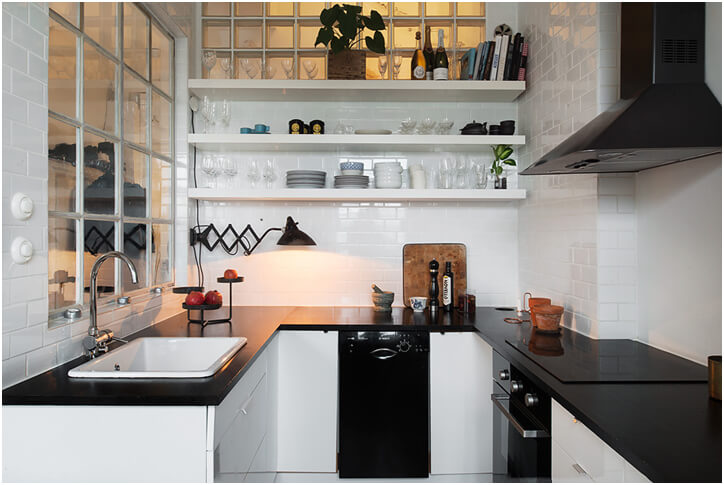 This stunning yet so simple black and white kitchen is from a Vancouver based jewelry designer's studio. You can visit the photographer Kelly Brown's blog post to check out this fab renovation tour of this studio. I bet you won't be able to stop yourself to renovate your own kitchen after checking the before after pictures.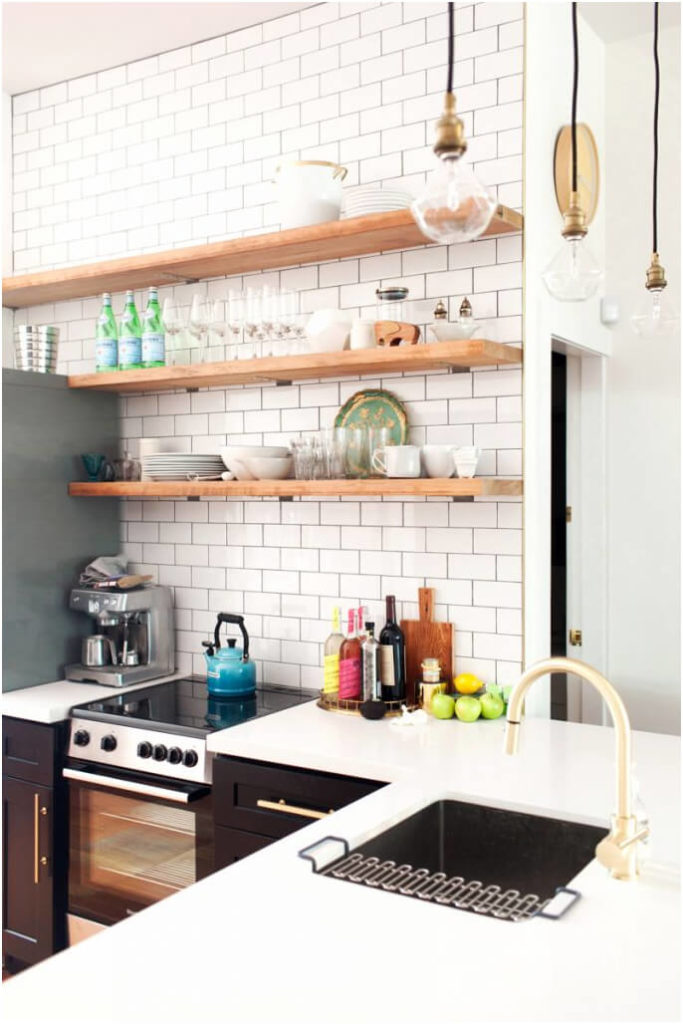 This below kitchen is a fab example of a spacious and well-managed island kitchen. The brick backsplash is adding a soft texture to this kitchen and the hanging lights are a plus for this kitchen. You can check the original post here.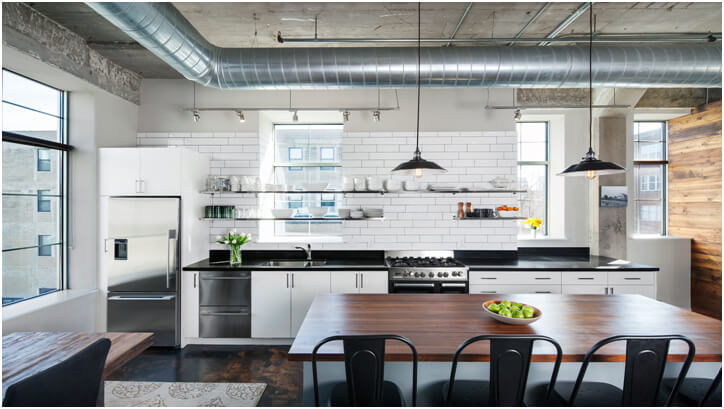 When I came across the photos of this below black and white kitchen, I instantly decide to add this to my black and white kitchens collection. This black and white kitchen is having the wood island and white and black tiles on the floor. Check out all the views of this black and white kitchen by visiting the original post here.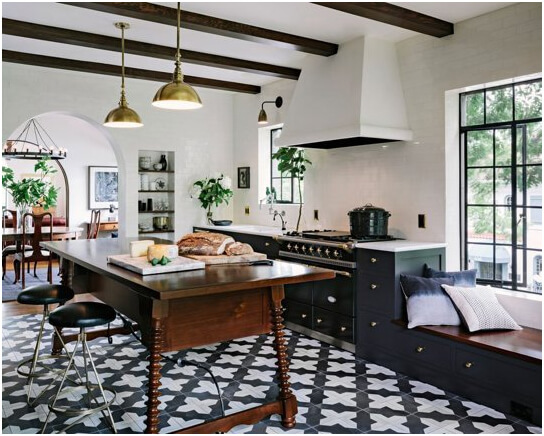 Adding a wallpaper on to your kitchen's wall is a clever idea because you don't need to spend so much money for the wall paint or renovation and a wallpaper can do so much for a small space. This small black and white kitchen has a nice and clean wallpaper which making the wall pop and adding a personality to the kitchen. Original image source: blog.abigailahern.com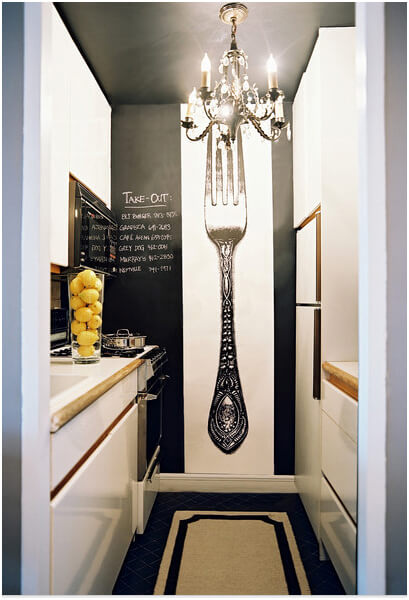 Gallery kitchen is a good option for small spaces, With several storage options, the homeowner can make the most of the wall space available in the kitchen. This below black and white kitchen is a perfect example of a gallery kitchen idea. Via www.nakeddecor.com