Nobody wants a messy and cluttered kitchen if you're looking for some amazingly simple DIY ways to improvise and organize your kitchen so you are in the right place. You don't need to spend more time cleaning, organizing your kitchen, these do-it-yourself ways are very useful and essential for your kitchen!
I am showcasing some brilliant DIY kitchen projects that help you with your everyday things like DIY kitchen utensil hangers, DIY plastic bag sealers, and countless DIY storage and containers. If you're looking to save your money & time and love to recycle the old things then these 15 Amazingly Simple DIY Tips To Improvise Your Kitchen are a must try!
How to Paint Laminate Kitchen Countertops
Most of us have laminate kitchen countertops and after some time we get bored with the same look in our kitchen so for some fun, I brought this DIY hack how to paint laminate kitchen countertops with ease. Check out the complete tutorial www.diynetwork.com.
This DIY tutorial is using granite-look countertop paint from Giani, you can find a distributor of this paint in India (Bengaluru, Karnataka) by following the link: www.indiamart.com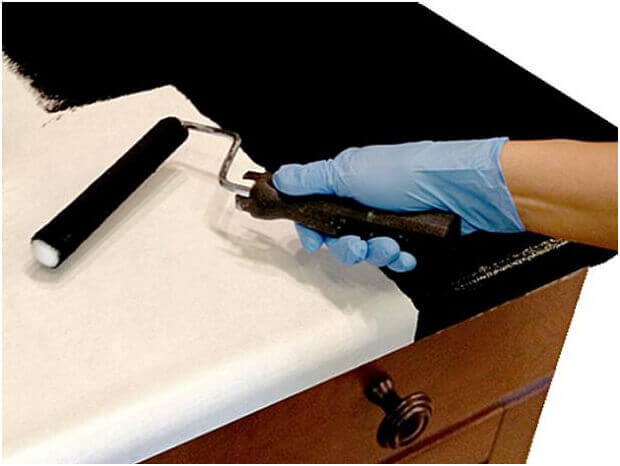 Keep Your Tupperware lids in CD Holders
Want to keep your Tupperware lids organized then use this hack, it's a lifesaver idea from BHG. Use your CD holders to keep your Tupperware lids organized. Originally posted on www.bhg.com.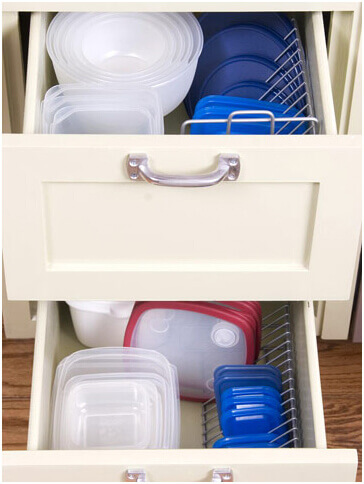 Use Velcro for Dish Towels so They don't Slip Off
Hanging the dish towel from an oven door is a manageable and useful idea but keep stop it from slipping off is tricky. I found this easy DIY trick to solve this problem, visit the following blog for detailed tutorial www.marthastewart.com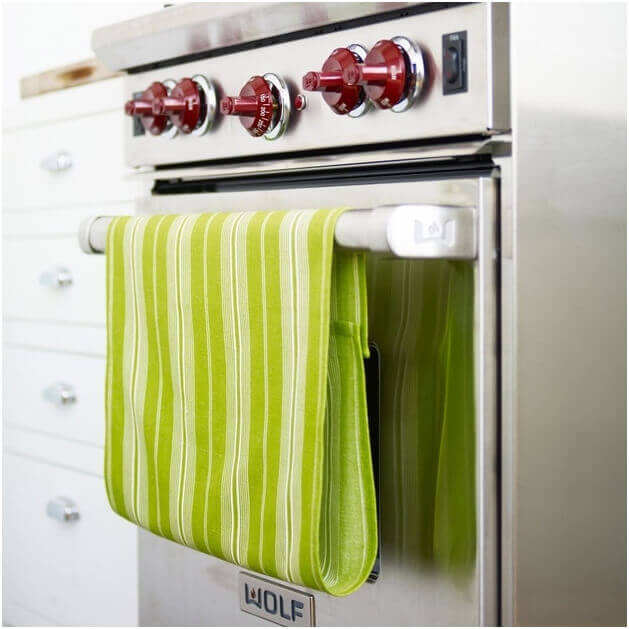 Small Snacks in Coffee Creamer Containers
Coffee creamer containers could be a good hack for your small snacks, keep your small snacks in this containers for reuse them in a good way.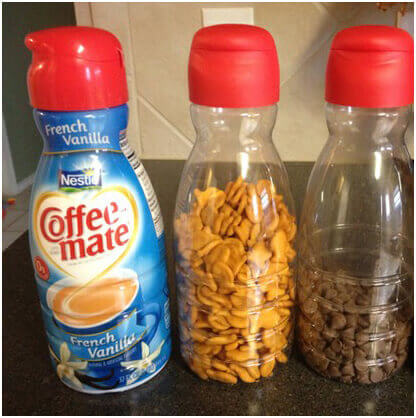 Stick Your Metal Containers to the Fridge with the Help of Magnets
Give your small containers a new life by turning them into Magnetic containers, wants to check out the detailed tutorial then visit www.marthastewart.com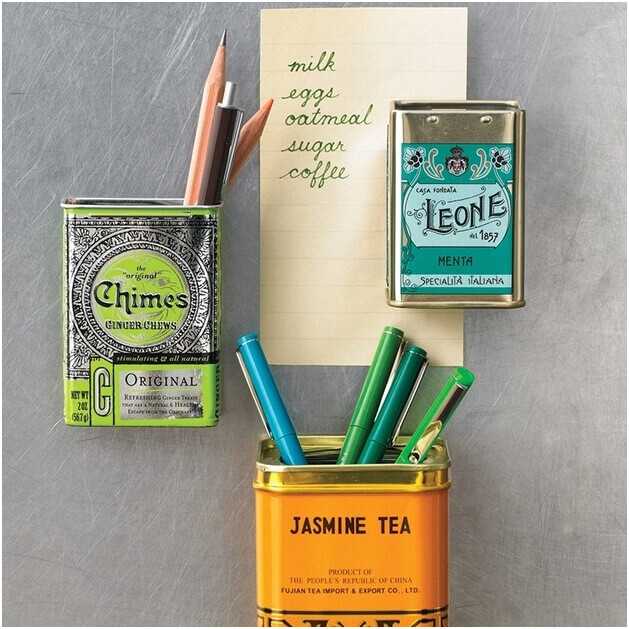 Keep Knives Safely in Bamboo Skewers
Knives could be very dangerous if you keep them in your kitchen without any protection, keeping your knives in a drawer or hang them on the wall can give you little cuts sometimes. Check the detailed DIY kitchen Hack project to save your hands on feliciakramer.blogspot.in.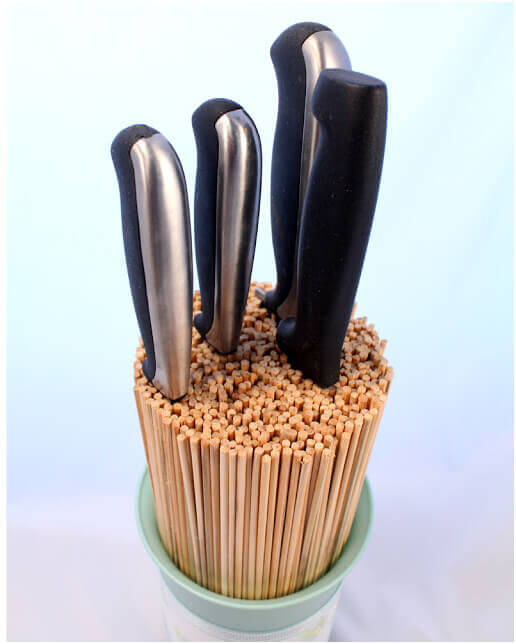 Make Dust Pan by an Empty Milk Jug
Why wasting your money by buying a dustpan when you can create it at your home with an empty milk jug, Originally Posted on www.facebook.com.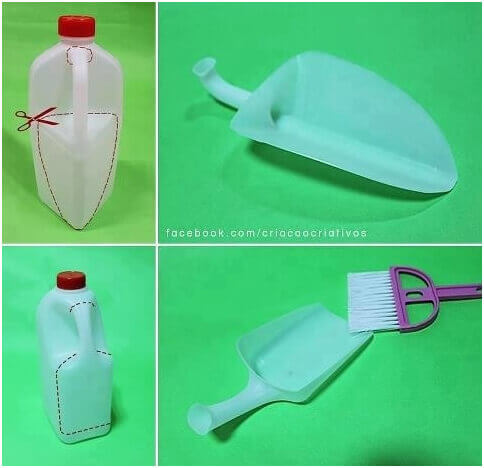 Keep Cookie Cutters in Place with a Paper Towel Dispenser
Keep your cookie cutters organized by placing them into a paper towel dispenser like the image below. For tutorial or more ideas visit www.bhg.com.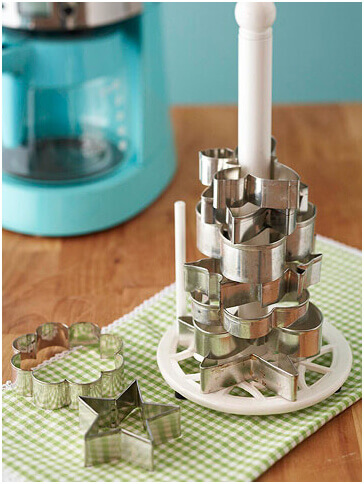 Use Tissue boxes for Holding Plastic Bags
Reuse you rectangular tissue box for holding the plastic bags, simply thumbtack the box inside of a cabinet door.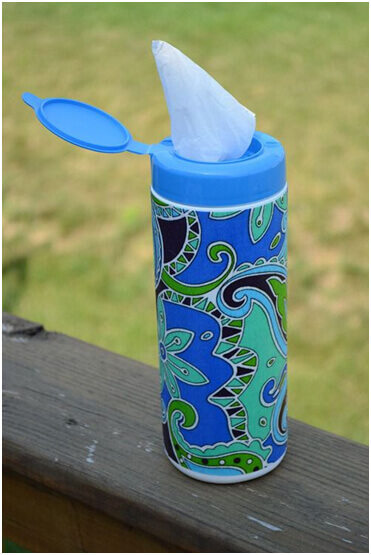 Keep Plastic Bags in an Empty Wipes Container
This is a kitchen DIY hack for keeping your plastic bags organized, you can store them in an empty wipes container and reuse the containers. Check out the method to do it on tatertotsandjello.com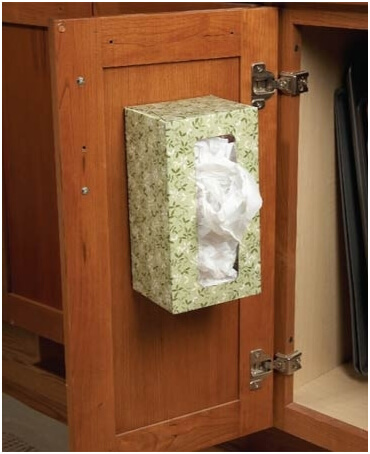 Use a Pegboard to Hang Extra Storage or Utensils
Peg-Boards and Baskets make great receptacles for unwieldy kitchen tools or fruits and vegetables that don't require refrigeration. Visit www.marthastewart.com for the detailed project.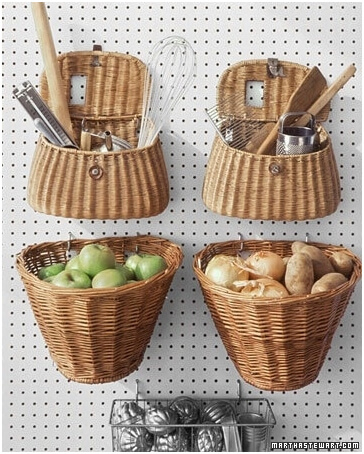 Organize Cookie Sheets and Cutting Boards in a Desk Organizer
Sort cookie sheets, cutting boards, and jelly-roll pans in the kitchen for easy access in an overstuffed cabinet. Pick the idea from www.realsimple.com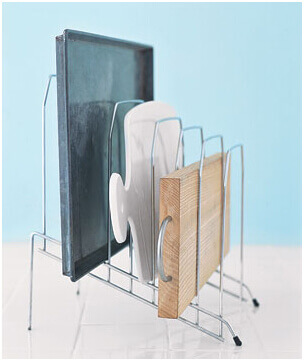 Arrange Utensils and Clothes on an Old Shutter Door
Turn an old shutter door into a kitchen utensils holder, this is a very clever hack for organizing kitchen without spending too much money. Visit www.designsponge.com for the complete project and tutorial.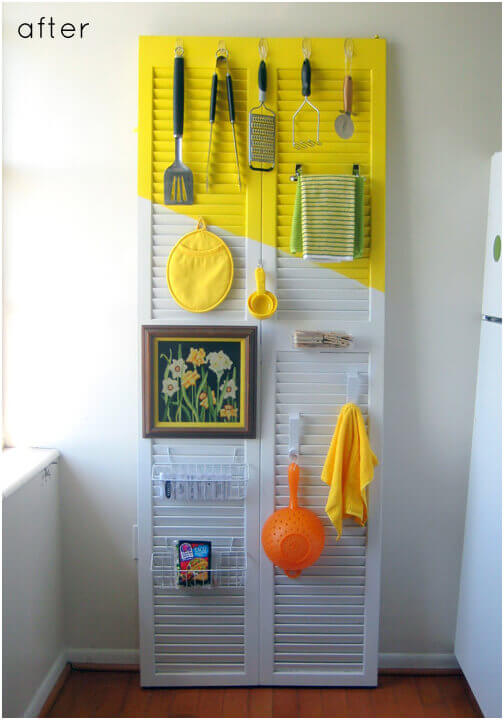 Use the Water Bottle for Sealing Plastic bags
Reusing water bottle tops to seal an open bag of chocolate chips or another small snack. This DIY hack will keep your food safe, you can visit www.pinterest.com to get a clear idea that how you can try this by your own.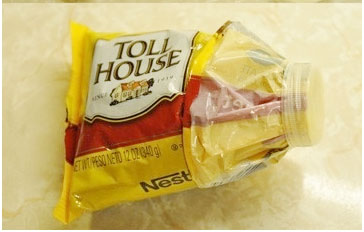 Use an Old Rake as a Wineglass Holder
Don't throw away your old rack, recycle it by using it for wine glass Hanger. As you can see in the image how useful this DIY is, isn't it? Visit the detailed project on www.pinterest.com.