Living in a small space could be very tough sometimes, especially when your decorating options are limited by rental rules and landlord restrictions. Sometimes you can't even re-paint your room walls but you can add some fun colors like red in your decor. Let these small and cute red & white interior design ideas inspire you to make your home more welcoming.
In this post I would like to showcase three cute small apartment designs which are surprisingly amazing for me because it is very hard to find a practical small apartment decorating idea and these small studio apartment interiors are full of ideas.
We all love Red but scare to incorporate this color into our home interior design, because red could be too loud if not used in right way. I got these inspirational home interior designs to give you an quick idea that how cool red color could be for your room interior design and how you can incorporate red in your home decorations. Have a look to below beautiful red & white interior design ideas and inspirations.
Want to know more about Red Color: Interior Color Inspiration Of The Week – RED
This below cute small apartment is designed by SWAN architects, which is located in Montmatre, Paris. Visit on www.swanarchitectes.com for the complete project details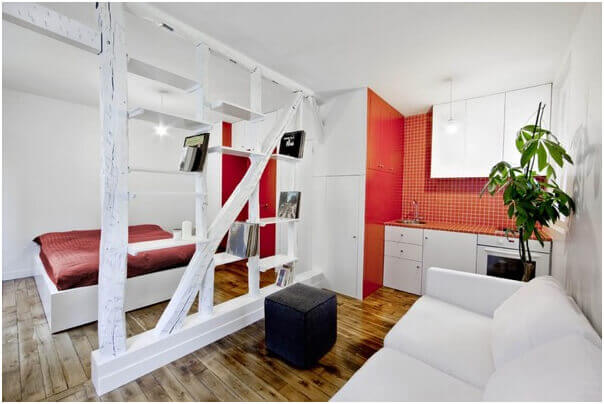 So now we already know that good things can come in small packages. Bigger isn't always better, and this below interior design proves this line so true. Visit www.refinery29.com for complete Look of this apartment.
Living in small space can be more cozy than living in a big space, this below design is so perfect for small spaces. Visit www.apartmenttherapy.com for all the pictures of this apartment.