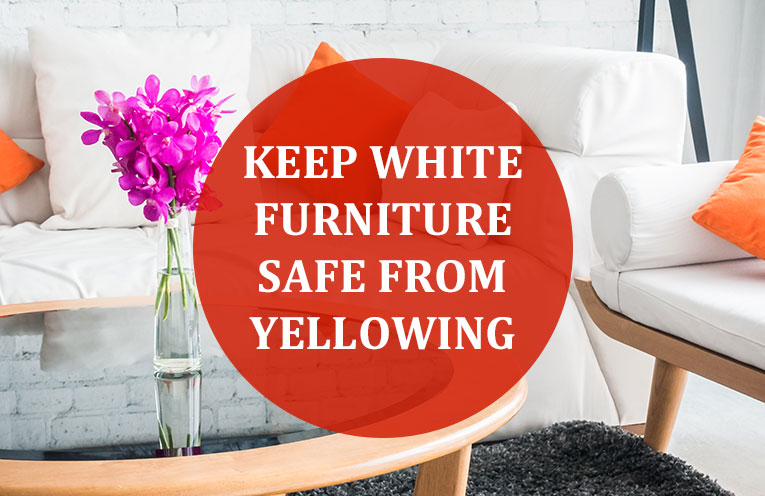 Hi Guys, today's topic is how to clean and protect your white furniture.
Who doesn't love white, it's bright, clean, flexible, and cozy, most importantly you can always incorporate white with any other color. Juts pick a different color and add some decorative pieces in that color with your white furniture. The ideas to have white furniture and decorate it according to your style are endless. White makes your space looks brighter and opens up the space to look more spacious.
I have done some serious research on how to keep white furniture from turning yellow, there are few very important tips to clean white furniture safely or at least you can keep it safe from more damage after reading these tips.
It's very hard to clean white furniture but with some regularity and dedication, you can always maintain the cleanliness of your white furniture. Don't be afraid to call for professional cleaning services as at some points you can't take matters in your own hands for your own good.
First thing first, keep these below points in your mind as they can keep you from doing more harm to your white furniture.
Don't use wet cleaning measure before vacuuming this can cause loose dirt and debris to become ingrained in the fabric, making it more difficult to clean.
If you are cleaning leather furniture, you should avoid using water. Use steam cleaners or specially formulated leather cleaning solutions available in the market.

Always check the tag on your furniture to know which cleaners and methods to avoid or what methods should be used

. In case your tag is damaged or lost, you can always check the same information online.
You need to clean your white furniture every 10-15 days and

call for professional cleaning service in every 4-3 months

. Professional cleaning is always needed as they know how to clean stubborn stains from your furniture without doing any harm.
So let's move ahead with cleaning methods that you can use in case you decide to clean white furniture by yourself.
How to Protect and Clean White Upholstered Furniture
Treat new stains and spills as soon as you can. Wipe up any excess staining or spilled material and apply cleaning solution to it. This will help prevent stains and spills from permanently discoloring the fabric.
Prevent your sofa from spills by treated with safeguard. Most sofas or carpet cleaners' offer this service if you're willing to pay a bit more to keep your upholstered furniture safe. Otherwise, you can easily purchase Scotchgard for your furniture.
Use Slipcovers to prevent your furniture from getting dirty or stained. Investing in slipcovers can save a lot of trouble in the future. Also, you can always wash them according to your convenience or whenever it gets any stain.
To help keep all pet hair and fuzzballs from your sofas or chairs at bay use Lint Roll whenever you need.

Use baking soda paste for coffee or wine stains

, cover the stain completely for 5 minutes then blot the paste with a clean dampened microfiber cloth.

Clean blood stains with mild hand soap or dish wash, use cold water to clean the stain

. You need to do it several times if the stain is severe to make the stain fade sufficiently. Always air dry the fabric in-between the applications.
You can always use specially formulated upholstery cleaners available in the local market or online.
How to Protect and Clean White Wood Furniture
Keep your white furniture out of direct sunlight because direct sunlight can cause yellowing over the time.
To clean dust buildup, lightly dampen a sponge or nonabrasive washcloth and gently wipe the furniture using smooth, vertical motions. You may need to put forth a little extra elbow grease if you encounter any caked-on dust. By cleaning on daily basis you'll be able to address minor buildup before it becomes a major problem.
You can always use a vacuum cleaner to clean dust buildup from your white wood furniture, they can be more effective in comparison of simple sponge or washcloth.
Clean white wood furniture monthly in addition to regular dusting. Just mix 1 cup of white wine vinegar with 2 cups of warm water and cleanse with a soft towel. It'll be good as new in a matter of seconds.
See also- 23 Modern Bedroom Interior Design Ideas