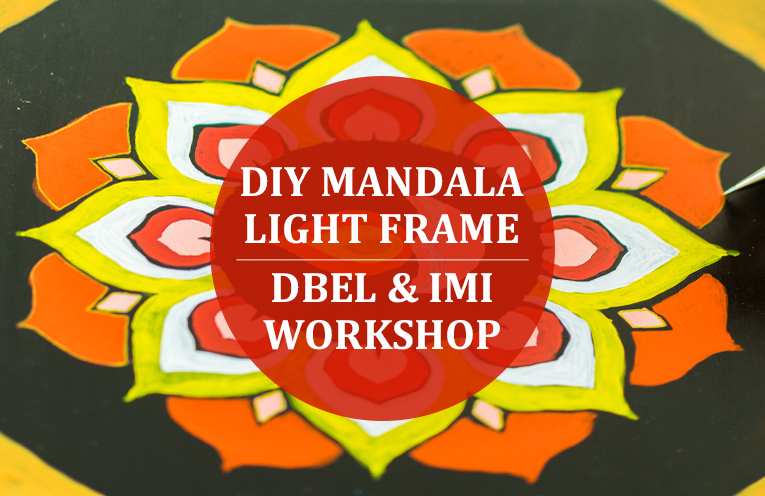 Hi Guys, hope you all are doing well. I am here with a new Diwali DIY called DIY Mandala Rangoli Light. I got an invitation to attend this very informative and creative DIY workshop from DBEL Studio in collaboration with I Made It.
About DBEL Studio
DBEL Studio is a luxury lighting brand and trust me, it's a one-stop solution if you are looking to light up your home, office or any other interior with basic or high-end lights. Their exclusive range of lights will amaze and you'll find yourself buying at least one light from their studio.
They offer services from lighting consultancy, in-house light designing to product supply. If you are looking for a lighting solution for your residential or commercial project then DBEL Studio is the right choice for you.
About I Made It
I Made It aka IMI is an Indian platform where they showcase the hidden artistic talent of India and promote home-based business, They provide them a platform to grow and find new opportunities to dive in.
IMI website has sections such as Bakery, Food, Design, Gifts, Beauty, Invitations, and Corporate Gifts. All these sections have homemade products that have been specially crafted by their creators who have been registered themselves on IMI.
Let's start the "DIWALI MANDALA RANGOLI LIGHT DIY"!
Everyone who participated in the workshop got this beautifully crafted box that had all the items we need to create our Mandala Rangoli Light.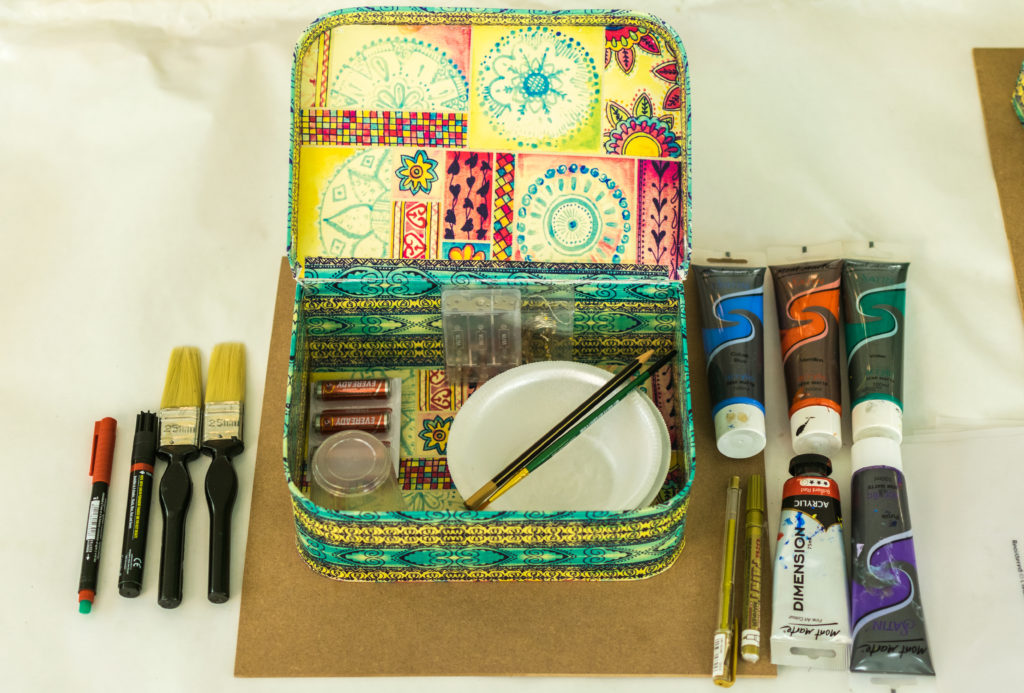 Items that we got for the DIY:
MDF Board in Square Shape
Acrylic Paint, Sketch Pens
Golden Marker/Outliner
Pencil
Mandala Print
Tracing Paper
Bowl to Mix Colors
Water
Brushes
Battery Operated LED lights and Batteries
Steps for Mandala Rangoli Light DIY:
Choose a design and a color palette to work with, I decided to go with a black base and Mandala colors were peach, white, yellow, red, and orange.
Start painting your MDF board with the color of your choice to create a perfect base to work with and let it dry completely. Check if you need to do another coat so that the base is clean and don't have any patches. I painted my base in black color and because black is so intense and bold, I didn't require another coat.

While the base is drying, start tracing your Mandala design on a tracing paper.
Now trace the design on your MDF board, make sure the paint is dry before placing the tracing paper on the board.
When the design is completely traced, start filling up the shapes of your mandala design. I suggest you fill light shades inside and go darker outside or vice versa. Let the colors dry and do a second coat if needed.
Finish your artwork by outlining the mandala design with a golden outliner. I decided to fill the corners of my MDF board with golden paint, which is looking stunning.
Let the colors dry completely. After that mark the points where you want to add your lights and start drilling on those marks. You can also get it drilled from a nearby carpenter.
Now start adding the lights on the backside of MDF board, start adding from outside to inside. Fold the bulbs and push through the drilled holes and secure them with cello tape. Secure all the lights with cello tape as shown below.
Here is the final outcome. Isn't it looking lovely and great addition to Diwali decorations?
The workshop is still going on and has been scheduled on 3rd and 4th of November in Delhi, Kirti Nagar. If you guys want to join this fun workshop then you can register here.
More Photographs from the workshop: