Indian Interior Design is a mix of the amalgamation of various Indian cultures, celebration History, Art, Tradition across the country.
So, I personally think that we Indian's are losing that Indian touch when it comes to Indian home decor and we naturally runs towards that modernize look and feel. Even a few months back I was also all about all whitey-white and modern furniture but when I researched about Indian home decor I realized that there's a lot that we can do with our traditional home decor style and keep our tradition alive in our homes.
The Indian Interior design is an evolution of most diversely rich heritage, here are my 12 Beautiful Indian Home Decoration in the Bedroom to give you some inspiration.
---
Venkatram Reddy (owner of Tamarind Tree and Basava Ambara) owns a very beautifully gorgeous home in Bengaluru. His love for collecting antiques and art can be seen in every corner of his home.
Check out the beautiful pictures of his home on GoodHomes.
Good Earth (luxury home decor company) was founded by Anita Lal, her company completely focuses on Indianness and unsurprisingly her home is full of textiles, pattern and beautiful bold hues.
Check out the beautiful pictures of her home on House & Garden.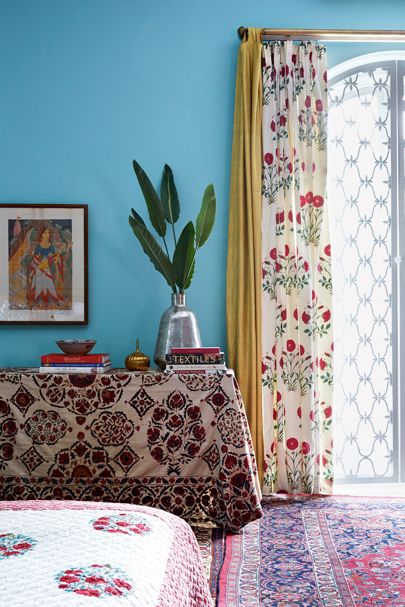 The below bedroom is a residential project of a Delhi based interior design company called Studio Lotus, the mix of blue and brown is looking stunning and the Indian throw on the bed is balancing the modern yet Indian look in this bedroom.
Check out complete projects of Studio Lotus on their official website.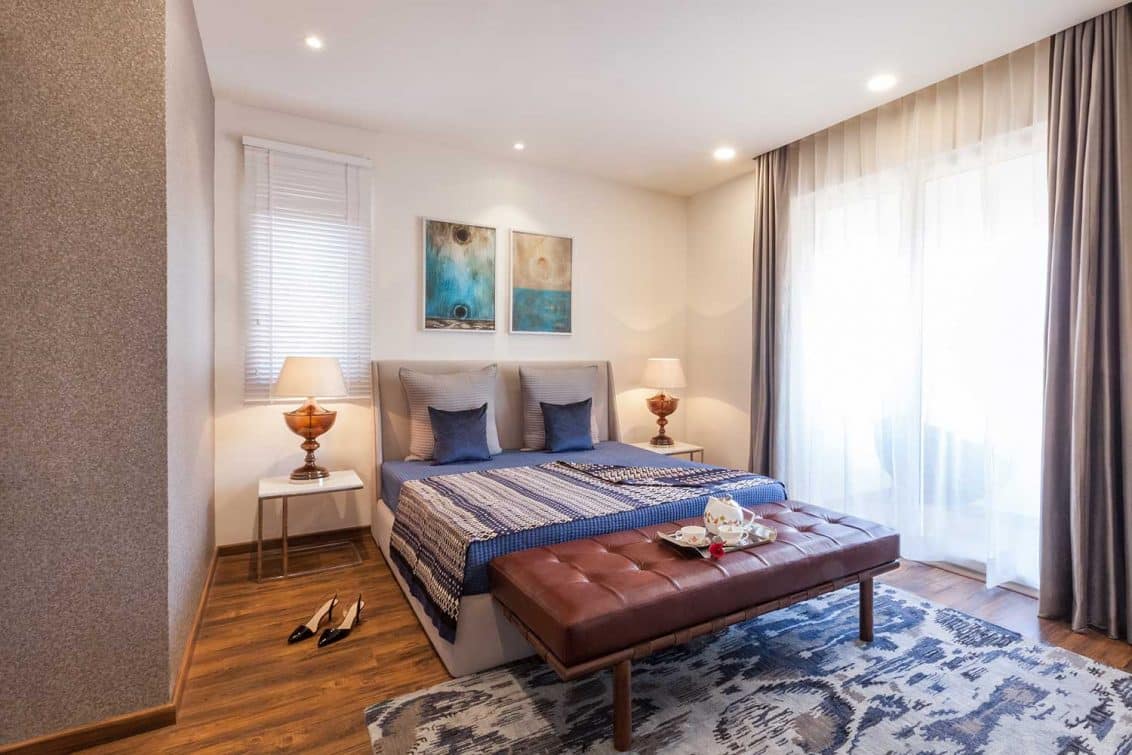 Paul Mathieu well known French furniture designer restored the 18th-century haveli in Udaipur. This Haveli is breathtakingly beautiful and shows a beautiful side of Indian architecture combined with furniture designed by Paul Mathieu's is a win-win situation for the project.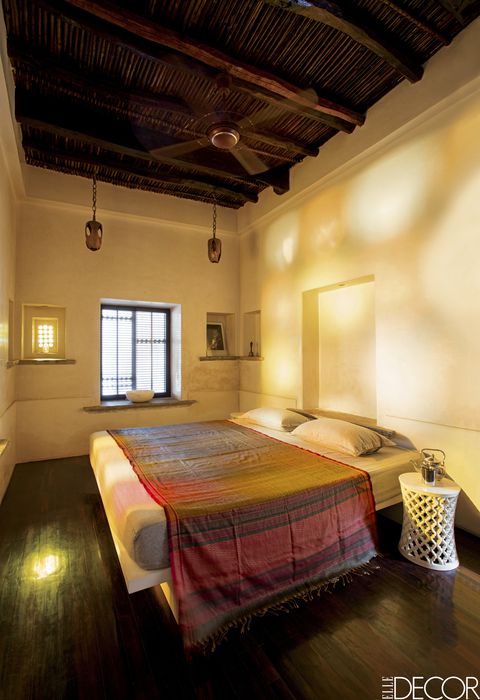 Who doesn't know Parineeti Chopra, She made her acting debut with an acclaimed performance in the Ladies vs Ricky Bahl.
Parineeti is such a treat to watch on screen with her beautiful smile, and her home is equally beautiful as her. Take a look at the beautiful pictures of her home designed by The Orange Lane.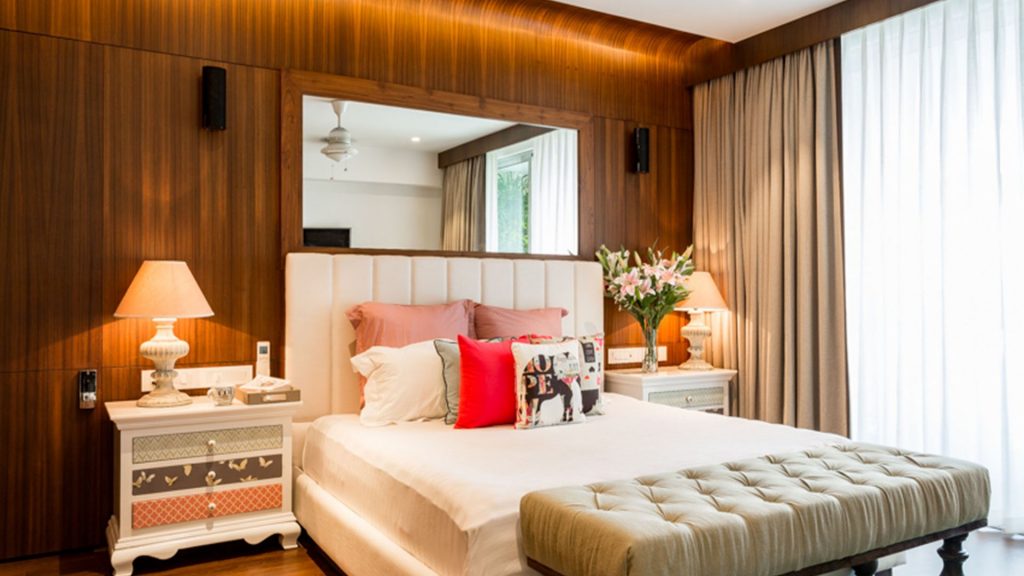 Home tour of this beautiful house in Chennai will make you re-think your home decor arrangements. The chair in this room is from the 1950s, and 186 the 14th-century sculpture is of a Hindu deity.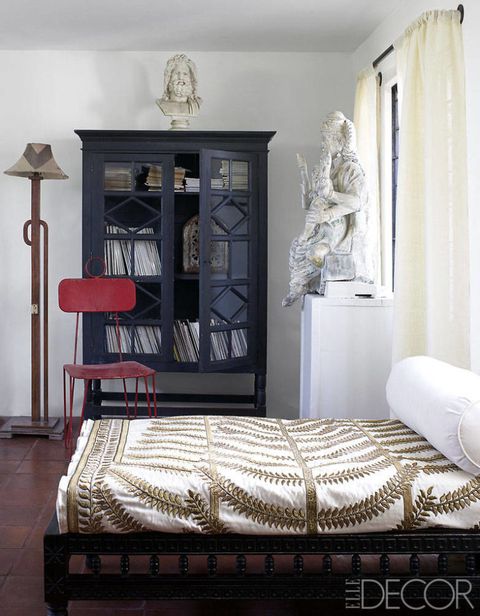 If you are from India and love home decor and interior design then must know Design Decor & Disha. Disha posted a home tour of Anushikha Dwivedi and trust me her home is just mesmerizing and full of art and craft décor items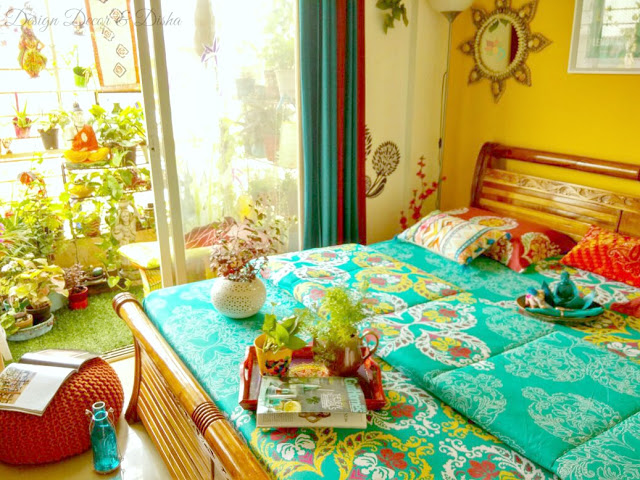 So hers is one more from Design Decor & Disha, she really is so lucky to visit and capture such beautiful homes.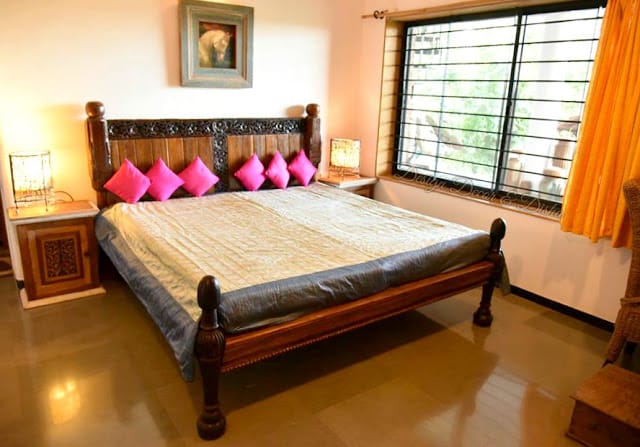 French designer Jean-Louis Deniot dream came true when he got the chance to design an Indian grand house in New Delhi. Check out the complete home tour on Elle Décor.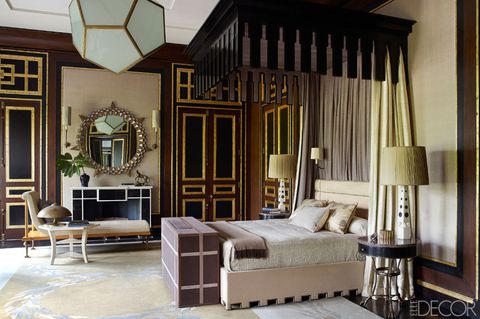 The Verdant Villa by The Orange Lane is one of my favs. Use of such a beautiful pattern and fabric is just so amazing. This villa is not limited to a single color palette, every corner of this home has something different to tell.
This bedroom decor was not really on any blog or something, I found it on a shopping website while looking for bed sheets and blankets. This one just got my attention because of the rug and blanket selection. I hope you guys also liked it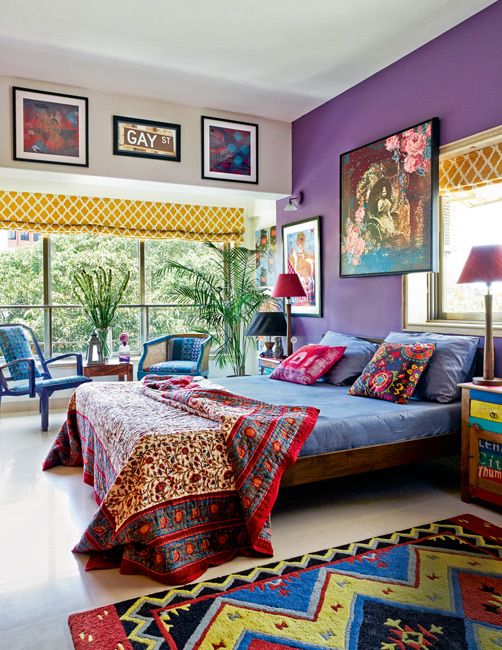 This Indian Low Pillar bed is made out of Sheesham wood and hand-carved with intricate floral details. Pillars are inspired by Rajasthani castles and the yellow and teal color combination is just on point in this bedroom.